Vic Fury Win Grand Final
Tuesday, 02 July 2019
The Victorian Fury have finished their remarkable season as Premiers of the Deakin University Australian Netball League in a one-goal win over the NSW Waratahs.
It was a tight contest from the first centre pass, with scores level at the first break, 16-all with not much separating the two for the entire game. The level of intensity from both teams made it evident it was a grand final and nothing was going to come easy.
The Fury took a two-goal lead into half time, before captain Jacqui Newton and Head Coach Di Honey offered some inspiring words before the second half.
There was only a one-goal lead to the Fury at three quarter time, but the defensive efforts of Jacqui Newton, Allie Smith and game-changer Rudi Ellis saw the Waratahs forcing the ball forward.
With only a minute to go, Ellis was able to stride through her opponent to take an unbelievable intercept to get the ball back in the hands of the Fury and time to hold the lead.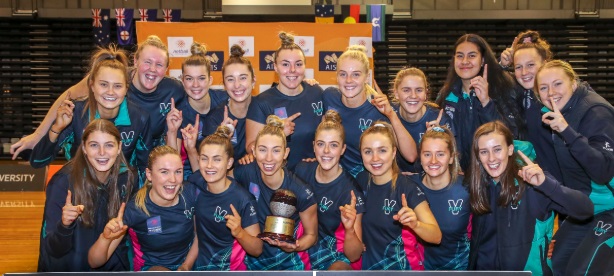 Emma Ryde had another impressive performance being highly instrumental to the Fury's win with a goaling accuracy of 87% and contributing 46 out of the 54. While Lara Dunkley was able to utilise her speed and presence on the court, driving to the top of the circle, making it easy for the goalers to get into position to convert.
As a member of the losing Fury side last year, defender Rudi Ellis was thrilled to come away with the win in such a close finish.
"I can't believe we came away with that, it was such a close game and such a hard-fought game," Ellis said.
"I think last year, we finished on top of the ladder and we had that mental state where you think…okay we're on top, we'll win this."
"But coming into this year we weren't complacent like that. We wanted it more, and we treated every game like it was our first and I think that was the difference."
"This year we've really jelled well as a team and I think we all just love each other, which made a big difference out there."
Fury goaler, Emma Ryde capped off a sensational year, being named Fury's Most Valuable Player for the 2019 season. And her influence was noticed league wide as she was also announced as the Deakin University Australian Netball League Most Valuable Player.
CREDIT NETBALL VIC