Mucci completes rare double
Mucci completes rare double
Monday, 15 April 2019
VIS' Celeste Mucci completed a rare national double at the 2019 Australian Track and Field Championships, after winning the Heptathlon and the 100m Hurdles.
Mucci started her National's campaign with a good score of 5844 points in the Heptathlon on Thursday and Friday before resting up for the 100m Hurdles final on Sunday.
With the withdrawal of Sally Pearson in the hurdles, the event was wide open and Mucci made the most of it, crossing the line in a massive personal best time of 13.09s to become the eighth fastest in Australian history.
"Yeah it does feel great to win," she said. "I really wanted to be fresh for this race, but knowing I wasn't going to be, I had to dig deep to find some adrenaline."
"I got a pretty average start, I just had to work my way through and make sure that I had a clean race to the end."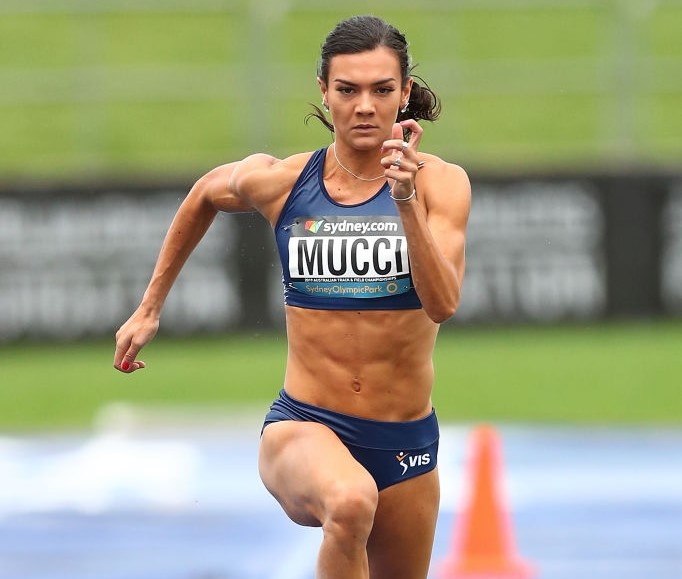 She revealed she was still suffering from the gruelling Heptathlon schedule.
"I was feeling alright yesterday on my rest day, and then this morning I woke up sore. I just had to run on a lot of adrenaline in the heat and manage a quick turnaround for the final."
Our distance runners also continued their impressive form with Peter Bol winning the Men's 800m final, as well as Georgia Griffith (2:01.26) and Morgan Mitchell (2:01.60) dropping season's bests and taking out silver and bronze, respectively.
Meanwhile VIS' Luke Mathews geared up in what was going to be an intriguing 1500m battle between himself and former Victorian Institute of Sport scholarship holder Ryan Gregson.
After a slow tactical race, the pace picked up at the bell, but in the home straight the young legs of Mathews were too strong and he crossed the line in first place in a time of 3:43.15.
Mathews said he was ready for whatever pace the race went at.
"Like I said to mum, 'I was prepared if it was going to be run at 3:33 pace and I was prepared if it was going to be won in four minutes with a 50 second last lap'.
"We've just been training under race pace and what it's like to get lactic and keep running harder. No matter what situation - I was ready, but when I was leading the first 800m I was licking my lips. I was like 'this has just played out perfectly'."
Topping off what was a successful National Championships for the VIS, Javelin thrower Kathryn Mitchell was named Athletics Australia Female Athlete of the Year at the conclusion of the weekend.
Mitchell produced a career-high performance to claim a gold medal at the 2018 Gold Coast Commonwealth Games.
The then 35-year-old made the two longest throws of her career in the competition - including a national record of 67.58m. The Games capped off a series of fine performances including winning  her first national title in 10 years with an Australian record throw to lock in selection for her fourth Commonwealth Games.
She broke it again at the Victorian Championships with 68.57m, the longest in the world since 2013 to elevate her to number seven in history.
Meanwhile, Mitchell has booked a berth for the World Championships at the Australian Track and Field Championships. She had a qualifying throw of 62.78m.
This was enough to finish second to Kelsey-Lee Barber (63.33m).
Mitchell holds the national record at 68.92m.
All VIS results from Nationals: 
| | | | | |
| --- | --- | --- | --- | --- |
| Athlete | Event 1 | Results | Place | Comments |
| Christian Davis | 400m (Open M) | 47.38s | 9th |   |
| Nic Hum | Long Jump (Ambulant) | 6.72m | Bronze |   |
| Celeste Mucci | Heptathlon | 5844 pts | Gold | OCE and WUG Standards |
| Jessee Wyatt | Shot Put (Secured) (Open M) | 9.44m | Gold | Para WC B Standard |
| Jemima Montag | 10000m Race Walk (Open W) | 43:51.5 | Silver | OCE Standard |
| Lousie Mendes | Hammer (Open W) |   49.46m | 6th |   |
| Sam Rizzo | 800m Wheelchair (Open M) | 1:52.43 | 2nd |   |
| Joesph Baldwin | High Jump (Open M) | 2.15m | 7th |   |
| Sam McIntosh | 100m Wheelchair (Open M) | 18.46s | 4th |   |
| Sam Rizzo | 100m Wheelchair (Open M) | 15.55s | 5th |   |
| Kathryn Mitchell | Javelin (Open W) | 62.78m | 2nd | WCH Standard |
| Georgia Hansen | 1500m (Open W) | 4:16.45 | 5th | SB |
| Peter Bol | 800m (Open M) | 1:46.12 | Gold | OCE Standard |
| Joe Deng | 800m (Open M) | 01:49.0 | 7th |   |
| Damien Birkinhead | Shot Put (Open M) | 19.79m | Gold | SB, OCE Standard |
| Todd Hodgetts | Shot Put (Open M) | 14.58m | 11th | Para WC B Standard |
| Chris Mitrevski | Long Jump (Open M) | 7.83m | Silver | SB, OCE Standard |
| Celeste Mucci | 100m Hurdles (Open W) | 13.09s | Gold | PB, OCE and WUG Standards |
| Claire Keefer | Shot Put (Ambulant) (Open W) | 9.17m | Gold | PB, Para WC A Standard |
| Brooke Stratton | Long Jump (Open W) | 6.70m | Silver | OCE Standard |
| Luke Mathews | 1500m (Open M) | 3:43.15 | Gold |   |
| Isaac Hockey | 1500m (Open M) | 3:46.36 | 7th |   |
| Jaryd Clifford | 1500m (Open M) | 3:47.89 | 9th | SB in heats (3:45.65) |
| Georgia Griffith | 800m (Open W) | 2:01.26 | Silver | SB, OCE Standard |
| Morgan Mitchell | 800m (Open W) | 2:01.60 | Bronze | PB, OCE Standard |
| Morgan Mitchell | 4x400m Relay (Open W) | 3:39.05 | Gold |   |
| Christian Davis | 4x400m Relay (Open M) | 03:10.5 |   |   |
Please see below results from the Australian University Sport – Athletics Nationals;
Georgia Griffith | 1st | 4:10.52 | WUG's qualifier
Georgia Hansen | 2nd | 4:11.22 | PB and WUG's qualifier
Jaryd Clifford | 2nd | 3:47.05 | M's 1500m
Joseph Baldwin | 1st | 2.10m | M's High Jump