Qualifiers, Gold medals & PB's in Perth
Qualifiers, Gold medals & PB's in Perth
Tuesday, 19 March 2019
In perfect conditions at Saturday night's Jandakot Airport Track Classic in Perth, Victorian Institute of Sport track and field athletes produced World Championship qualifiers, gold medals and personal bests.
Brooke Stratton and Luke Mathews recorded World Championships marks in their respective events whilst Darcy Roper put together another enormous long jump. 
In the men's 800m a high quality field was assembled with three VIS gun athletes; Luke Mathews, Joseph Deng and Peter Bol on the start line.
Mathews quickly shook his pre-race nerves in his first 800m run since the Commonwealth Games final, charging home in a battle with VIS teammate Joseph Deng to cross the line in first place with a very impressive World Championship qualifying time of 1minute 45.51 seconds.

It was a late turn of speed that won it for Mathews.

"It was not a tactic to win it late, it was how I had to run, because those boys are so quick over the first 400. So, I knew if I was going to lead it was probably only going to come until the last 100 and it ended up coming in the last 50."

"(My) Goal was to keep my confidence up the whole way and coming down the home straight hopefully have enough to pass the boys as I knew they would go out real quick," Mathews said post-race.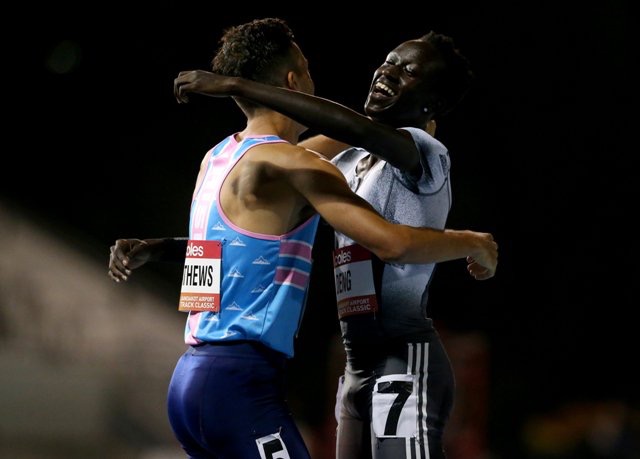 Meanwhile in the women's long jump VIS sensation Brooke Stratton continued her consistent ways locking up a world champs qualifier of 6.72m.

Although Stratton was a little disappointed after being pipped of the gold by a centimetre she was still "relieved" to secure the qualifier.

"It feels good and a relief to get the qualifier out of the way. Would love to have jumped a little bit further and obviously I jumped 7.05m here three years ago," she said.
 A bit disappointing not having cracked those distances, but things are progressing well and hopefully by nationals I can be jumping closer to seven metres."

But it was Darcy Roper who was the star of the show with a massive 8.32m (+2.6) jump in the men's long jump registering the 10th best measurement in Australian history.

The wind on the 8.32m jump was not strong, 2.6m/s while the 8.13m and 8.11m jumps were wind-legal and exceeded his PB. He moved up to equal 10th all-time and continues to threaten the world champs standard of 8.17m. 

"It didn't feel windy and I genuinely think it was the wind generated by me running past the wind gauge," Roper said.

"I just need to keep focused on what I'm doing on the runway, hitting my strides and nailing the board then those jumps will come."
VIS Results:
Asian 20km Race Walking Championships
Jemima Montag | W 20k Walk | 5th, 1:31:53
Perth Track Classic
Brooke Stratton | W LJ | 2nd, 6.72m | World Champs qualifier
Luke Mathews | M 800m | 1st, 1:45.51 | World Champs qualifier
Joe Deng | M 800m | 2nd, 1:45.98
Peter Bol | M 800m | 6th, 1:47.05
Darcy Roper | M LJ | 1st, 8.32m (+2.6) (10th AUST All-time best)
Chris Mitrevski | M LJ | 2nd, 7.64m
Georgia Griffith | W 800m | 1st, 2:03.02
Morgan Mitchell | W 800m | 2nd, 2:03.86 (PB)