Mathews wins on return
Tuesday, 29 January 2019
VIS' Luke Mathews lit up social media on Friday night taking out the men's 1500m in his first competitive race back since May at the Hunter Track Classic in Glendale.
The Victorian Institute of Sport scholarship holder admitted he had to change his race plan mid-event, leaving his decisive move all the way up until the last 100m.
"I originally I said to my coach I would go at 800m to go but I waited until 100m. I was just waiting for a gap to open on the inside."
But he later noted if he ran with those tactics at nationals he would surely be beaten. But overall he was pleased with his 3:41.81 win.
"It was a good work out and I'm happy with it."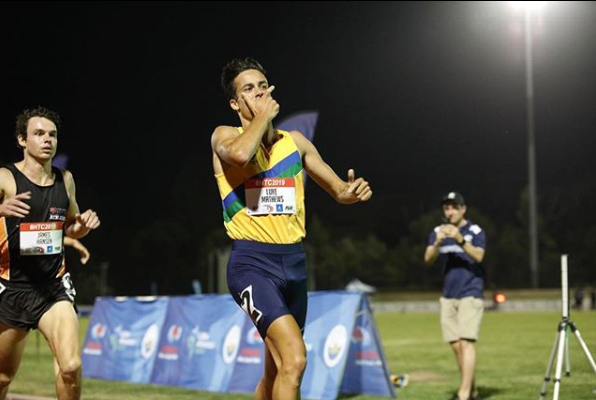 Fellow VIS track runner, Morgan Mitchell turned her attention away from her pet distance of 400m, to compete in the women's 600m.
Mitchell, led at the bell and extended the lead for a comfortable win in 1:30.19.
In the men's 600m race, VIS dynamic duo Peter Bol and Joseph Deng battled it out, with Bol on top in this encounter.
Bol clocked one minute, 16.26 seconds, managing to hold off Mason Cohen (1:16.37), Jye Perrott (1:16.61) and VIS teammate Deng (1:16.73).
It was a good warm-up for Bol and Deng who are fine tuning their preparations for three indoor races in Europe in the coming months.
"I forgot how tough a 600m is," Deng said.
"It was super hard going though in 23 seconds (200m) and 35 seconds at 300m. We did our first lactic session on Tuesday and prior to that we were doing two-mile time trials type stuff."
Australian record holder Damien Birkinhead (19.26m) beat Kurri Kurri's Aiden Harvey (18.11m) in the men's shot put. 
Results from Hunter Track Classic (Newcastle) (Friday 25 Jan)
Peter Bol | 1st M 600m | 1:16.26 (NEW PB)
Joseph Deng | 4th M 600m | 1:16.73 (NEW PB)
Morgan Mitchell | 1st W 600m | 1:30.19 (NEW PB)
Luke Mathews | 1st M 1500m | 3:41.81 
Damien Birkinhead | 1st M Shot Put | 19.26m
Results from World XC trail (CNB) (Sunday 26 Jan)
Jack Rayner | 2nd and secured an automatic qualifier for World XC Champs (Jack will compete at the Kagawa Marugame Inter. Half Marathon (JPN) on Sunday 3 Feb)
Results from Canberra Track Classic (Monday 27 Jan)
Brooke Stratton | 1st W LJ | 6.50m
Celeste Mucci | 4th W LJ | 6.18m
Celeste Mucci | 1st W 100m | 11.60s (NEW PB)
Damien Birkinhead | 1st M Shot Put | 19.43m
Todd Hodgetts | 4th M Shot Put | 15.09m
Darcy Roper | 2nd M Long Jump | 7.65m
Christopher Mitrevski | 3rd M Long Jump | 7.60m
Nic Hum | 8th M Long Jump | 6.88m
Christian Davis | 5th M 400m | 47.26s
Morgan Mitchell | 4th W 800m | 2:06.38 (NEW PB)
Georgia Griffith | 6th W 800m | 2:06.81
Jaryd Clifford | 3rd M 1500m | 3:48.80
Jemima Montag | 2nd (1st AUS) W 10,000m walk | 43:59.46 (NEW PB)